Today's (day 5's) challenge for the 15 Days to Freedom Blog Challenge is about letting go of people and habits in our life that we need to let go of. Sitting down to write this and seeing "Let Go", I couldn't help but think of Frozen.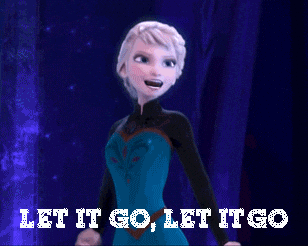 from http://giphy.com/gifs/dancing-shark-forum-igR5863TALcSk
I can honestly say that I don't have people in my life who put down my ideas, although my mother did before Christmas talk about my kids having talents (guitar and piano) and could they play something, but, to me, "You don't have a talent, do you?" (Actually, yes, Mother, which is why you were always impressed when I was growing up how easily I could learn to play things on the piano without having ever taken a lesson...) But that slip of her aging mind aside, I can't say I have anybody unsupportive in my life I need to let go of. I'm very introverted and have very few close people in my life. It works fine. One person I did need to let go of in my life I let go of about 5 years ago and since then, things have been good.
But the habits... 66 days to develop a new habit?! That's something surprising that Natalie shares in today's video. So, if you want to let go of a bad habit, which you can only really do by replacing it with a better habit, you have to give yourself over 2 months. Two doing-it-faithfully-each-day months. (Part of me is saying, "I'm doomed.") My mind is running a blank on habits I need to replace. But that could just be because it's 11pm after a long day of running around and wanting to actually do this post this morning but didn't get a chance to and I absolutely want it done before bed so I can do Day 6 tomorrow. Okay, some bad habits I have that affect my health, business progress or other:
*Snacking on bad foods in the evening before bed. As I type this, I have an empty bowl that previously contained corn Tostito rounds and some Maynard's Fruit Squirt candies.
*Getting right into work things (or online fun/distractions) instead of taking the time to properly exercise in the morning. Not only am I forgetting to do my rotator cuff exercises, but I'm not doing any cardio, which isn't helping my blood pressure at all. (Neither is the snack above, I suppose!)
*Can it be called a habit to
not
plan meals ahead of time?
*Spending too much time reading random things online, or evening interesting things that I just get carried away with.
*I tend not to get my Thursday class planned until Wednesday sometime and not completely prepped until Thursday morning, 5 minutes before I have to leave (if I even manage to prep everything I wanted to prep).
She said to pick 2 or 3 habits to let go of and replace them with good habits. So, here are the good habits I'm going to work on for the next two months:
*I'm going to let go of the junk in the evening and replace evening snacks with
no
snack (some of my snacking is just habit, not actual hunger) or with a healthy snack: fruit, veggies, some sort of whole food.
*I'm going to let go of the early morning online fun/distractions or work stuff to take care of my physical health and exercise--both shoulder work and cardio (if I'm not sick). I have a skipping rope now and some videos... Even though I might not be able to move my arms properly, it doesn't mean I can't tackle the cardio.
*I am going to let go of the Thursday-class-procrastination and actually work on it every day--at least until it's ready. Just the idea of possibly finishing a Monday evening for the coming Thursday sounds divine!
Well, I've got my work cut out for me with this one. Hopefully I'll remember in the morning what I said I would do. ;)